HOW TO DETERMINE THE PRICE OF NETSUITE FOR YOUR BUSINESS
Are you in search of a comprehensive business management solution?
We have a decade of experience helping all kinds of businesses successfully implement NetSuite – this is our ultimate guide to Oracle NetSuite pricing.
While we would love to tell you exactly what NetSuite costs for your business, it's not something that can be generalized, but we do have a few tips to make sure you don't pay for any unneeded extras and make the most of available discounts.
NetSuite is a highly-customizable platform that's capable of pretty much anything! So, without knowing exactly what your business needs, it's tough to say what NetSuite would cost.
That said, there are some general cost guidelines we can break down so you can at least have a ballpark idea of what NetSuite might cost for you.
The cost of NetSuite depends on a few factors, including:
The number of NetSuite user licenses you need
The size of your company
NetSuite add-on modules you need
NetSuite customizations required
The scope of NetSuite implementation
Ongoing training & support
| NetSuite Service | Price | Fee Schedule |
| --- | --- | --- |
| Licensing | Varies | Annual |
| NetSuite Modules | Varies | Annual |
| Implementation | $10,000 - $100,000+ | One-time |
| Customizations | $150-300 per hour | As needed |
| Integrations | $0-$4,000+ | Annual + One-time implementation fee |
| Training & Support | $2,000 - $15,000 | One-time (optional ongoing) |
Paramount Medical Solutions
We truly appreciate all your knowledge and expertise in helping us get the most out of NetSuite for our company. You are always very responsive to our requests for help. The recent projects are really helping to transform our business – introducing greater visibility and controls and, even better, saving us money! Thank you for all your support.
Acuant UK
Thank you for all your support in achieving our successful on time Go Live. Our migration to NetSuite following our Acquisition had numerous challenges – aligning to our Parent company Chart of Accounts, bringing together data from various repositories, migrating manual processes such as revenue recognition, configuring UK tax and more….Your experience and expertise meant that each challenge was met and enabled us to concentrate on our own integration and closing activities. Being able to come on site at the time of changeover really helped our UK launch to go smoothly. We really appreciate your ongoing support too!
Circadia
I was happy not just with your fair quote, but also SCS Cloud's willingness to go the extra mile when the project turned out to be lengthier than originally thought. I was very pleased that not only did Marco work until he found a solution, but SCS did not charge us for the extra time. I felt very comfortable working with Marco, who was very patient and thorough in answering my many questions and explaining our options.
PayScale
The consolidated invoice feature has improved our billing process by allowing us to quickly create a detailed record of customer billings on the backend and, at the same time, provide a straightforward invoice to our clients. By being able to provide a more straightforward invoice, we can devote less time to explaining invoices to individual clients, which in turn improves the efficiency of our collection process and ultimately the customer's experience.
Pivot3
You are without exception the BEST integration team I have had the pleasure to work with in my 20+ years. These things seldom complete on time … and that is with 6-12 month windows to accomplish the task. We truly began in mid-April, and in less than 3 months rolled out the new system. A system spanning from lead gen and deal reg, to opportunity management and quoting, on to service and support, with numerous moving parts in between. An incredibly impressive feat.
In this NetSuite pricing guide, we're going to cover details on all of the items above and more. Here's everything you need to know about how NetSuite pricing works.
How Does NetSuite Pricing Work? Follow These 5 Steps
While we can't give you one definitive price, we can let you know about all of the major decisions and business needs that affect the total cost of NetSuite.
Here are the five main steps used to determine the price of NetSuite for your business.
1. NetSuite Licensing Costs
The first step to determining the price of NetSuite is figuring out which NetSuite edition your business needs.
This portion of NetSuite pricing isn't necessarily your decision – it's based on the size of your company and how many NetSuite user licenses you need.
NetSuite Edition Pricing
NetSuite editions are based on the size of your company and how many user licenses you need.
NetSuite Starter/Limited Editions - NetSuite Limited Edition is available for up to 10 user licenses. It's best for small businesses with one legal entity and up to 50 employees.
NetSuite Standard/Mid-Market Editions - NetSuite Mid-Market includes user licenses for 11-1,000 employees. It's best for businesses with two or more legal entities.
NetSuite Premium Edition - Unlimited licenses
NetSuite Enterprise Editions - NetSuite Enterprise Edition is for large companies with multiple legal entities that need over 1,000 NetSuite user licenses.
NetSuite Service Tiers
On top of your NetSuite Edition, you're also required to fall into a designated NetSuite Service Tier. This aspect of NetSuite is based on managing business productivity. Each Service Tier has a maximum number of users, file storage, and monthly transaction lines.
| Service Tier | Users | File Storage (GB) | Monthly Transaction Lines |
| --- | --- | --- | --- |
| Standard | 100 | 100 | 200,000 |
| Premium | 1,000 | 1,000 | 2,000,000 |
| Enterprise | 2,000 | 2,000 | 10,000,000 |
| Ultimate | 4,000 | 4,000 | 50,000,000 |
Want to find out the price of the NetSuite service tier that you need? Find out here!
Here's What Each NetSuite Edition Includes
All three NetSuite editions automatically come with NetSuite's CRM and ERP. Here are the functionalities you'll have out of the box.
NetSuite CRM
Marketing automation - Drive your marketing campaigns using email marketing, campaign management, and lead nurturing.
Sales Force automation - Empower your sales team through lead management, opportunity tracking, and sales forecasting.
Reporting and analytics with real-time data - Access comprehensive reporting for data-driven decision-making.
Upsell, quote, and order management - Streamline your quote-to-cash process encompassing quote creation, order fulfillment, and revenue recognition.
Sales forecasting and quota management - Gain insights into future sales performance with accurate and real-time sales forecasting capabilities.
Partner relationship management - Collaborate with partners via partner portals, lead sharing, and joint forecasting.
Learn more about NetSuite's CRM capabilities and how they can help you manage NetSuite Contract Renewals leads throughout the entire sales funnel.
Here's a look at a customer record and dashboard in NetSuite.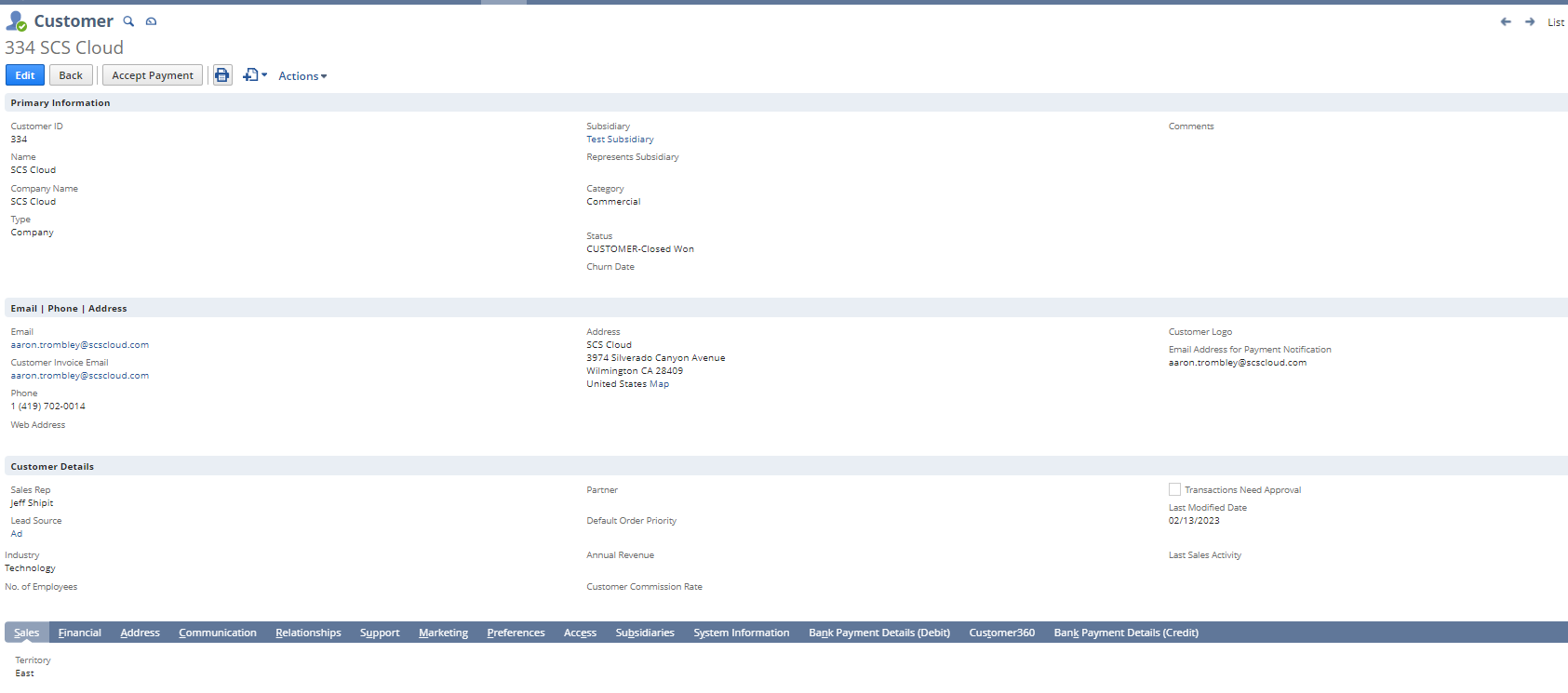 NetSuite ERP
Financial management - Gain complete control over financials, including general ledger, accounts payable and receivable, fixed assets, and financial reporting.
Global business management - Manage your international operations and expand into global markets with tools for compliance, currency management, and cross-border logistics.
Inventory management - Keep track of inventory levels, stock movements, and stockouts with features for real-time updates and optimization.
Order management - Streamline your order-to-cash process, covering order capture, fulfillment, and invoicing.
Supply chain management - Improve supply chain efficiency with demand planning, inventory, and vendor management.
Warehouse management - Enhance warehouse operations with bin management, pick-pack-ship, and real-time inventory tracking.
Accounting - Handle your financial transactions, journal entries, and reconciliation easily, ensuring accurate records and compliance with accounting standards.
Read more about NetSuite's ERP functionalities, including everything from fixed asset management to real-time warehouse operation visibility.
How Much Does NetSuite Cost Per User?
The cost of NetSuite starts with a monthly user fee.
However, this doesn't account for the base platform cost of Netsuite, the length of the license you choose, add-on modules, or customizations. The true cost of NetSuite per user varies for each business and is more than just the number of users multiplied by the per-user fee. So this number alone won't help you gauge the total cost of NetSuite for your business.
To determine the price of NetSuite for each user in your organization, you would need to add up all of the costs and divide it by the total number of active users.
Find out how much NetSuite costs per user here.
NetSuite User Licensing
There are also a couple of different types of user licenses within NetSuite, so it's important to know exactly what type of access each employee at your company needs.
The NetSuite Edition levels are based on the number of full user licenses required.
Full User License - Full User License - A full user license is required for any employee who needs access to NetSuite on a regular basis. NetSuite has pre-configured access settings called roles, including standard roles such as an accountant, sales rep, or administrator, and custom roles. Any employee with these roles will require a full user license.
Employee Center License - These users are limited to performing only a few actions. These actions include tracking project time, viewing or entering PTO, and adjusting expense reports.
Does NetSuite Have "Read-Only Access"?
NetSuite doesn't provide "read-only" access.
To be able to view and export data, you'll need a full user license. Luckily, all data can be exported into Excel, so if you just need one or two reports, you can have someone with a full user license export it for you as needed. Or, you could also have them set up an automated email alert that sends you an email with an Excel file attached on a periodic basis.
EXPERT ADVICE
We advise against having multiple users share the same user license. While multiple users can share one NetSuite user license, you won't be able to pinpoint who made each change. If you want the ability to know exactly which employee is making changes within NetSuite, they will each need their own user license. Plus, if a second user tries to log in with the same credentials as someone who is already using NetSuite, the first user will be booted out of the system.
2. NetSuite Module Pricing
Regardless of the NetSuite edition you have, you'll start out with NetSuite's ERP and CRM modules.
For some businesses, this is all they need (if that's the case for you, you can skip ahead to step 3!). However, other businesses will require additional NetSuite modules to achieve the functionalities and workflows needed to run their business.
NetSuite offers a set of pre-built modules that can be easily added to your software. If you aren't quite sure whether or not you need modules during your NetSuite implementation phase, we can help you determine that.
Netsuite modules are generally sold within a Suite of bundled modules – these bundles are called editions. For example, you could purchase the SuiteSuccess Manufacturing Premium Edition, which includes the core ERP, CRM, and six additional NetSuite modules.
The price of NetSuite modules depends on the NetSuite edition your business has. Just like most NetSuite features, there's not one single price generalized across the entire platform.
NetSuite's eCommerce component is called SuiteCommerce. If you run an eCommerce business and are looking to onboard NetSuite, we highly recommend looking into SuiteCommerce.
NetSuite eCommerce Pricing
The price for SuiteCommerce varies depending on how many users you need, the level of SuiteCommerce you're going to purchase, and how many transactions you have on a monthly basis.
NetSuite offers two levels of SuiteCommerce:
Site Builder - Site Builder is the lightest, earliest, and least flexible level of SuiteCommerce. It debuted in 2004 as NetSuite's foray into eCommerce management began, so it's really more of a legacy option. However, if you're a small business that doesn't need any customizations or fancy features, this could be a contender.
SuiteCommerce - While this is the lowest level of SuiteCommerce, it's still a full-scale eCommerce solution. It includes true SaaS upgrades (without a version lock), supports global eCommerce websites, and provides robust business insights. It's integrated with NetSuite's CRM, ERP, and inventory management system.
SuiteCommerce Advanced - The benefits of SuiteCommerce Advanced are mainly that you can customize every single aspect of your storefront. This level is probably only necessary if you're an enterprise-level eCommerce business that requires a wide product catalog and shopping customizations.
If you use a third-party eCommerce software, such as Shopify, you'll need to integrate it with NetSuite to realize the full scale of combined data. Using SuiteCommerce will make everything much easier! There's no need for integrations or additional work to connect the two programs – it's all seamless.
EXPERT ADVICE
NetSuite modules can be added on at any time, whenever the business need arises. If you'd like to see how NetSuite's functionality works out of the box before adding modules, that's perfectly fine! Your NetSuite implementation partner will be able to let you know what's best for your needs.
Industry-Specific NetSuite Modules
The list below contains all of the industry-specific NetSuite modules available. This includes financial management, inventory management, order management, eCommerce, professional services automation, and supply chain management. If your business requires any of those functionalities, you'll need to purchase a NetSuite module for it.
When you choose an industry-specific module, you'll receive all of the core functionalities within that industry.
NetSuite Financial Management Modules
NetSuite's financial management modules provide extensive accounting and financial capabilities, giving you real-time insights into your company's financial performance.
Financial management modules include:
NetSuite Advanced Financials
NetSuite SuiteBilling
NetSuite Revenue Management
NetSuite Planning & Budgeting
NetSuite Multi-Book Accounting
NetSuite OneWorld
NetSuite Dunning Letters
NetSuite Fixed Assets Management
NetSuite Electronic Bank Payments
NetSuite Contract Renewals
Here's a glimpse at NetSuite's financial dashboard: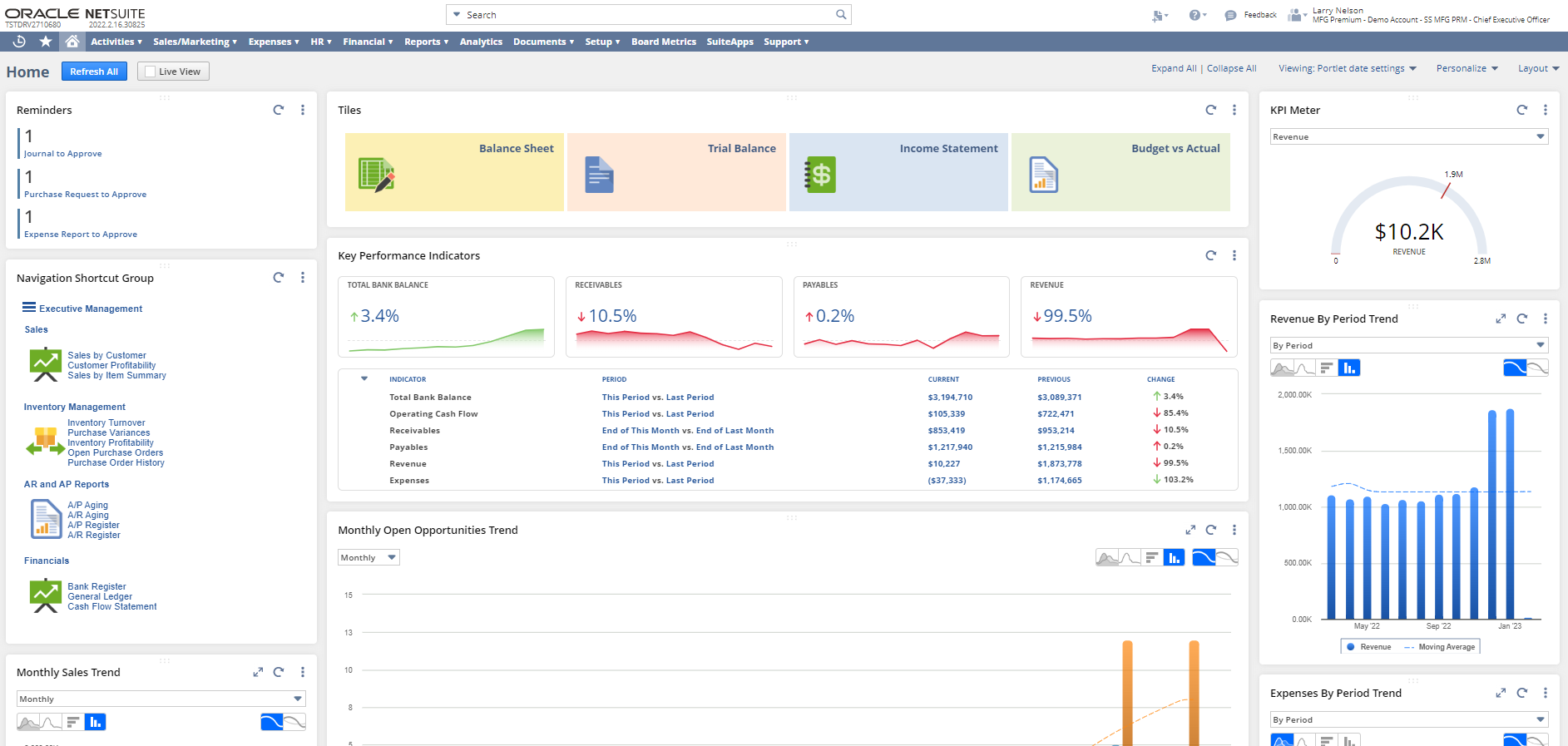 NetSuite Inventory and Order Management Modules
NetSuite's inventory and order management modules can automate the ordering process from start to finish, helping you provide an amazing customer experience.
Inventory and order management modules include:
NetSuite Advanced Inventory Management
NetSuite Advanced Order Management
Grid Order Management
NetSuite Commerce Modules
If you're a retail business, NetSuite's commerce modules can be a game changer, whether you're an eCommerce business or are looking to optimize your omnichannel retail experience.
NetSuite's commerce modules include:
NetSuite SuiteCommerce Advanced
NetSuite SuiteCommerce InStore
NetSuite SuiteCommerce MyAccount
NetSuite Professional Services Automation (PSA) Modules
NetSuite comes with a basic PSA functionality, which helps project-based companies optimize employee resources, billable hours, and profitability. However, NetSuite offers additional PSA modules if you're in need of a more robust solution.
Here's an example of a project record:

NetSuite's PSA modules include:
NetSuite SuiteProjects
NetSuite Project Management
NetSuite OpenAir
NetSuite Supply Chain Modules
Maximize resources and cut costs with NetSuite's supply chain modules. These tools are invaluable for running a smooth operation and consistently improving profit margins.
NetSuite's supply chain modules include:
NetSuite Procurement
NetSuite Warehouse Management System
NetSuite Demand Planning
NetSuite Quality Management
NetSuite Work in Process (WIP) and Routings
NetSuite Work Orders and Assemblies
NetSuite Advanced Manufacturing
EXPERT ADVICE
One of our favorite things about NetSuite is its ability to service each and every industry. Some other industries NetSuite is great for include food and beverage, software, and even mining.
A-La-Carte NetSuite Modules
Each bullet point listed for the industries above can also be licensed a la carte, depending on your needs.
For example, if you don't need every single functionality of the NetSuite Warehouse Management System but you still want Advanced Manufacturing capabilities, you can only license that one module!
Find out the price of NetSuite modules for your perfect setup here!
3. The Cost of NetSuite Implementation
For standard implementations that don't require extensive customizations, data migration, or integrations, the general rule of thumb is that NetSuite implementation costs around 2-3x the annual NetSuite license fee.
Depending on who you ask, the total price of NetSuite implementation can range from $10,000-$100,000+.
Why such a large price range? Because NetSuite implementation looks different for everyone.
The main cost drivers of NetSuite implementation are:
The scope of the discovery and research phase
Customizations needed
Development work
Integrations needed
Training to get staff up and running in NetSuite
Here's how each phase of NetSuite implementation can affect the total cost.
| Implementation Phase | Hours | Total Price |
| --- | --- | --- |
| Discovery & Research | 50-150 | $7,500-37,500 |
| Setup & Deployment | 100-300 | $15,000-75,000 |
| Customizations | Varies | $0-10,000 |
| Integrations | Varies | $0-10,000 setup fee, $0-$5,000 annually |
Discovery & Research
A successful NetSuite implementation requires a thorough discovery and research phase.
The cost of the discovery and research phase is usually based on an hourly consulting fee. This portion of the project can take anywhere from 50-150 hours, with most NetSuite Solution Providers charging anywhere from $150-$250 per hour. This means the price range just for the research and discovery phase of implementation is anywhere from $7,500-$37,500+.
During this portion of your NetSuite implementation, the team you're working with will conduct a full-scale analysis of business needs. This allows them to know exactly what's needed for your NetSuite implementation.
This implementation phase includes:
Analysis of current business software and workflows
Deep dive into business processes
Which business processes need to be carried over
Gaps in workflows that should be addressed
Any additional NetSuite functions you'll need
Custom development work needed
A detailed blueprint for NetSuite implementation
Setup & Deployment
The setup and deployment phase is the most time-consuming portion of the project. It usually takes about 60% or more of the total implementation time. You can expect it to take about 2-3x longer than the discovery and research phase.
During this phase of NetSuite implementation, your NetSuite setup will be configured, built, and customized as needed. You'll also complete full user acceptance testing, ensuring everything you need to run your business works flawlessly.
The total cost and hours involved with setup and deployment depend on the scope of your implementation: if you don't need any customizations or integrations and everything works as planned, it'll go much quicker.
The Cost of NetSuite Customizations & Custom Development
If the advanced NetSuite modules mentioned above just won't cut it for you, your NetSuite implementation will likely require custom development work.
The cost of NetSuite customizations varies depending on what you need. You might not need to pay for any customizations, so this wouldn't affect your budget. On the other hand, your NetSuite implementation could require upwards of $10,000 of customizations.
How Do I Know if I Need NetSuite Customizations?
The main drivers for NetSuite customizations are:
Automation - While NetSuite is capable of automating certain tasks with existing functionalities, certain automation workflows require custom development work.
Industry-specific functionalities - NetSuite provides a common base platform with room for industry-specific needs. However, this isn't always enough – NetSuite isn't fine-tuned for every industry. Depending on the industry you're in, you might need customizations for a flawless NetSuite implementation.
Reporting & dashboards - Many NetSuite customers need custom reports and dashboards configured. This is the case when the reporting requires calculations or data to be saved within the system, which isn't available with NetSuite's regular setup.
Integrations with other systems - If your NetSuite implementation requires integrating with other platforms, you'll need some custom development work.
There are virtually endless ways to configure NetSuite for your business. NetSuite can be custom-developed for your exact needs, such as automating workflows and pushing NetSuite's capabilities beyond its general functions.
There are two main types of NetSuite customizations:
SuiteFlow (Workflows) - This is best for non-technical users or companies that don't have an in-house development team capable of building NetSuite customizations. It's also helpful if you're trying to save money on your NetSuite implementation because you won't have to pay for custom development work. Instead of requiring code, it's a point-and-click solution.
SuiteScript - SuiteScript is NetSuite's platform that allows complete customization and automation of business processes. It's built on JavaScript and requires experienced developers to build out and customize it to your needs.
Your NetSuite integration partner will help you determine what types of customizations may be needed for your business.
EXPERT ADVICE
Some third-party providers build their own NetSuite bundles to help make certain business processes easier. These pre-built NetSuite bundles can be more affordable than paying developers to code the functionalities you need. For example, at SCS Cloud, we've created a suite of NetSuite bundles that help with everything from billing and payment automation to consolidating invoices.
The Cost of NetSuite Connectors & Integrations
While NetSuite is a world-class ERP system, your business might also still utilize other software for certain business functions. This is where NetSuite integrations and connectors come into play.
You will want to make sure all of your business data from other platforms is integrated into NetSuite. That way, there's one central source of data you can report on, analyze, and use to make strategic business decisions.
NetSuite Integrations
If your business utilizes other software in addition to NetSuite, you'll need to purchase a NetSuite integration to keep data flowing through both platforms.
Just like with every other step in the NetSuite pricing process, the cost of NetSuite integration varies.
Individual integrations can cost anywhere from $2,500-$5,000+ annually. There's also usually a one-time implementation fee ranging from $1,500-$10,000+ depending on the amount of development work needed.
Luckily, NetSuite can easily integrate with many other programs. If an integration doesn't already exist, you can hire developers to set one up!
For example, you might need to integrate NetSuite with data from:
Unless your business is staffed with developers who fully understand API connections and NetSuite's coding language, SuiteScript, it's best to choose a third party to help with your NetSuite integration.
Many NetSuite solution providers have pre-built NetSuite integrations that are quick and easy to set up. If you need to connect NetSuite with any other platform, you should allow some room in your budget for this step.
EXPERT ADVICE
Choosing a NetSuite partner with pre-built integrations can speed up the implementation process. At SCS Cloud, we've created our own set of NetSuite integrations called SuperSync. These can be set up in minutes, so you can easily integrate data from platforms including Amazon, Salesforce, and Shopify. This helps you save money on pricey custom development fees.
NetSuite Connectors
NetSuite connectors are less involved (and more affordable) than NetSuite integrations. This is because they don't require any custom coding and can usually be set up with the click of a button!
NetSuite connectors are great for enhancing inventory management, order management, and accounting. They centralize eCommerce data and point-of-sale systems so everything is housed within NetSuite.
The cost of NetSuite connectors can range from a few hundred dollars per month to a few thousand dollars per month. Also, an initial setup fee may apply.
NetSuite provides connectors for:
Amazon
WooCommerce
Amazon
eBay
Walmart
Amazon Fulfillment
ShipStation
Shopify POS
And more!
In addition to NetSuite's connectors, third-party service providers can also build their own connectors.
Find out the price of NetSuite customizations here.
4. Determine Where You'll be Purchasing NetSuite From
There are a few different purchasing options for NetSuite. You can either go through a licensed solution provider or purchase directly from NetSuite.
PURCHASING NETSUITE THROUGH A LICENSED PROVIDER
One option is going through a licensed NetSuite Solution Provider.

If your business has a lot of complex processes or you want to be able to customize your NetSuite implementation process and internal dashboards, it's best to choose a service provider that offers implementation services, development resources, and extensive training and support.

A licensed NetSuite provider will provide more time, effort, and attention versus what you would get purchasing directly from NetSuite.

Plus, they have more flexibility with what they can do for your personalized implementation. As another added bonus, they might already have their own pre-built integrations and custom bundles, so you don't have to wait for (or pay for) custom development work.

Schedule a FREE NetSuite consultation with our NetSuite-certified team to learn how to get started today.
PURCHASING DIRECTLY FROM NETSUITE
You also have the option of purchasing directly through NetSuite.
This is best for smaller companies that don't have complex business processes and don't use a lot of different software.
NetSuite does offer its own out-of-the-box integration options, but they only support certain software.
Make sure you understand all of your NetSuite integration options, including all the software your company uses and each business process you need to integrate into NetSuite before deciding to purchase directly through NetSuite.
EXPERT ADVICE
Choose a third-party NetSuite Partner if you have complex business processes, need customizations, or require additional integrations. They can help you build a custom plan and provide extensive support as needed.
5. ONGOING TECHNICAL SUPPORT & TRAINING NEEDED
Depending on where you choose to purchase NetSuite from, ongoing training and technical support may or may not be included with your NetSuite implementation price.
NetSuite training and support could cost anywhere from $2k-$15k+ depending on how many employees need to be trained, how in-depth the training will be, and the duration of the training.
EXPERT ADVICE
Here at SCS Cloud, we provide full training during the implementation process. If you aren't going to purchase ongoing support, make sure you have in-house development resources to install updates or add things to NetSuite as needed.
Tips to Save Money on NetSuite
Utilize SuiteAnswers as Much as Possible
Ongoing NetSuite support doesn't come for free. Your two main options are using your licensed service provider at whatever their hourly rate is or paying for one of the three service levels of NetSuite's SuiteSupport.
Before paying for support, try using SuiteAnswers. SuiteAnswers is a free self-service support site within NetSuite that contains answers to countless common questions, training videos, support articles, and best practice documents. Check out our guide on how to use SuiteAnswers to get started.
Ask Your Service Provider if They Offer Financing
If you don't have the working capital to pay for NetSuite in full when you sign the contract, ask your provider if they offer financing.
Working with a monthly payment can be a lot more manageable than finding the cash to pay for three to five years of NetSuite at one time.
EXPERT ADVICE
Oracle (the company that owns NetSuite) offers a program called Oracle financing. This allows you to set up fixed monthly payments instead of paying for NetSuite upfront. We can provide more details about Oracle financing if you're interested.
Purchase a Longer NetSuite License
We aren't just saying this because we think NetSuite is an amazing product. The longer you license NetSuite in your contract, the more money you'll save.
If you only sign on for a 12-month contract, your service provider might raise your rates when you want to re-sign a year later. This leads us to our next point…
Negotiate Maximum Annual Price Increases
In most cases, it's possible to negotiate a discount for NetSuite licensing. However, your NetSuite service provider might not always honor that same discount when it comes time to re-sign.
For example, let's say you sign a one-year contract with a 40% discount rate off of NetSuite's list pricing. Once that year ends and it's time to renew your contract, they may only offer you a 30% discount. This might not seem like a lot, but if your business isn't growing quickly enough to handle added expenses, these steep price increases can start to add up.
To safeguard your business against large NetSuite pricing increases, we recommend negotiating a maximum annual price increase rate, such as 5%. This means your NetSuite provider can't raise your price by more than 5% annually.
Know How Much Storage Space You Need (and When You'll Need More)
NetSuite charges for different levels of service tiers based on how many gigabytes of data your business needs.
NetSuite's service tiers offer the following business data limits:
Standard: 100GB
Premium: 1,000GB
Enterprise: 2,000GB
Ultimate: 4,000GB
There are also limits on the number of daily and monthly commerce transactions for each service tier to be aware of.
If you're expecting business data or transactions to increase for any reason, you should budget accordingly.
Consider NetSuite SuiteSuccess if You're a Small Business
NetSuite launched SuiteSuccess to make NetSuite implementation easier (and more affordable) for smaller businesses. Its goal is to get NetSuite live for your business within 100 days.
SuiteSuccess comes with pre-defined roles, dedicated process flows and key performance indicators (KPIs), turnkey setup, and a wide range of prebuilt reports and dashboards based on industry best practices.
Several popular SuiteSuccess packages include:
Financials First
Manufacturing
Wholesale Distribution
Retail
Professional Services
Software
Food & Beverage
Apparel, Footwear, and Accessories
It's important to note that if your business needs any customizations, integrations, or detailed training, SuiteSuccess probably isn't the best option. Our team can help determine if SuiteSuccess is right for your business!
CONTACT US TODAY TO GET A FREE CONSULTATION
Our NetSuite-certified team takes the time to fully understand your business needs. From standard NetSuite configurations to advanced customization, our team's specialization and NetSuite certificates will ensure you're guided through to a successful launch.
Find out how much NetSuite will cost for your business today!
GET A FREE CONSULTATION
NetSuite Pricing FAQ
How Much Does NetSuite Usually Cost?
The true cost of NetSuite depends on many different factors. This includes the cost of the license you're using, the number of licensed users, any add-on modules, and customizations needed.
Is NetSuite affordable?
NetSuite is most affordable for midsize to enterprise-level companies. Considering the nearly endless functionalities NetSuite is capable of, it can replace a lot of other more expensive (and less efficient) software.
NetSuite is less affordable for smaller businesses. While there is a small business option for NetSuite, a smaller business might not have the cash on hand to get started. If that's the case for you, we recommend looking into NetSuite's SuiteSuccess, which was designed to help small businesses implement NetSuite!
Is NetSuite Expensive?
NetSuite is not the lowest-price ERP software on the market, but the price of NetSuite depends on exactly what you need from it.
The cost of NetSuite scales depending on the size of your business, the number of user licenses required, and any customizations and integrations you need.
NetSuite is an incredibly robust cloud software solution that's capable of nearly any business process with the right customizations and training. If you need software that can scale with your headcount, across multiple legal entities, throughout many different countries, NetSuite is the best choice.
How Much is NetSuite per month?
There's no one set cost for the monthly price of NetSuite.
While there is a monthly NetSuite user fee, the true cost is usually higher than that. You would need to combine the costs of the suite you're using, any additional modules, and integrations. Then, divide that by the total number of users to determine how much NetSuite costs your business per user per month.
How Much is a NetSuite Sandbox?
The price of NetSuite Sandbox is 10% of the total of your NetSuite modules and users.
How Long is a NetSuite Subscription?
The length of a NetSuite subscription depends on the terms you choose.
You could choose anywhere from a one-year license to a five-year license, depending on your budget at the time.
If you're looking to save the most money, it's best to choose a longer term. This usually gives you room for negotiation with the NetSuite solutions provider you choose. Your NetSuite provider should also give the choice between one upfront payment or monthly payments.
How Does Netsuite Compare To Other Erp Solutions?
Comparing NetSuite pricing to other ERP solutions like QuickBooks, Microsoft Dynamics 365, or SAP? Consider the total cost of ownership (TCO).
While NetSuite may have a higher base subscription price, it offers more out-of-the-box features, reducing the need for customizations and additional development fees. NetSuite's scalability also eliminates the need to switch to a different software as your business grows.
Additionally, NetSuite pricing is often more affordable than enterprise-level ERPs like SAP. It offers comparable functionality at a more competitive price point.
Check out these guides for more detailed price and feature comparisons:
Next Steps
Whether you need comprehensive ERP functionality, robust CRM capabilities, or industry-specific solutions, NetSuite has the right package for you.
Take advantage of this NetSuite pricing guide to make an informed decision for your business's success.
Ready to get started? For more information about NetSuite and pricing, contact us today!
Get a FREE Consultation