How to Determine the Price of NetSuite for Your Business
See the numbers in our NetSuite Buyers Guide
Businesses need to analyze a lot of data. Whether it's company invoices or customer purchasing habits, information can quickly become siloed and difficult to access. NetSuite is here to make your life easier by consolidating virtually every source of data your business has — but how much does it actually cost? NetSuite pricing encompasses everything from the implementation phase to annual licensing fees. The specific costs relate to the level of customization your business might need, the software you're currently using, the number of NetSuite licenses you'll need for your employees, and a few other factors. Before determining the cost for NetSuite, it's important to understand what the software is and how it can help.
What is NetSuite?
NetSuite is a cloud-based software, meaning it stores information in remote servers, that can handle virtually every business process, from internal accounting to managing customer data to handling online inventory. NetSuite combines multiple applications, including: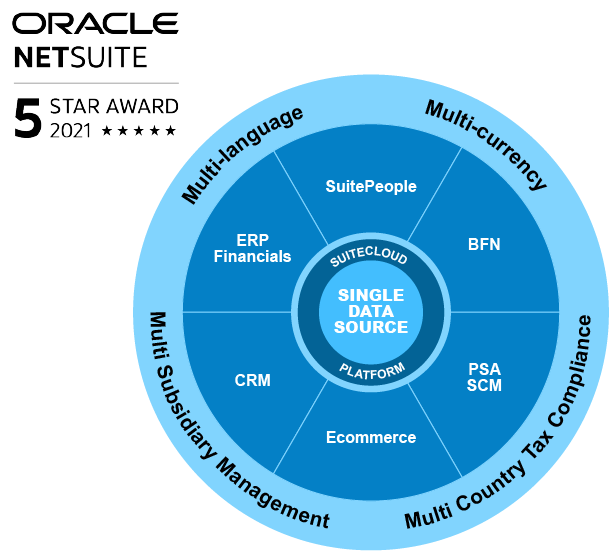 Enterprise Resource Planning (ERP):
From payroll to inventory management
ERP systems help streamline business operations
into one main dashboard.
E-commerce:
NetSuite handles all things eCommerce, including inventory, reporting, orders, and enhancing online shopping experiences.
Customer Relationship Management (CRM):
NetSuite's CRM software optimizes important customer data, including purchase habits, contact information, and more to provide valuable marketing insights.
Professional Services Automation (PSA):
This portion of NetSuite handles all of your company's internal day-to-day operations including timesheets, billing, and invoices so you can view all of your company's data in one place.
How Does NetSuite Pricing Work?
There isn't just one price for NetSuite. Determining the cost of NetSuite requires figuring out what your implementation will look like, how long you want to license the software for, and what add-ons and customizations you'll need. NetSuite is a subscription-based service where you purchase a license for a specific amount of time. If you go through
a licensed NetSuite provider
, you could have more flexibility with the length of your license than if you went with NetSuite directly. NetSuite providers can also provide as much customization as needed. Depending on the needs of your business, you can opt for a short-term or long-term NetSuite license. Typically, longer-term licensing is the better deal price-wise, as you can work out a lower price per year compared to a short-term contract. The base NetSuite license costs $999 per month, with individual access costing $99 per user per month, but there are additional costs to consider. The total price for NetSuite depends on:
Additional NetSuite add-ons, such as custom integrations
Customization needed during the implementation phase
The amount of on-going support needed
Pricing NetSuite: Step-by-Step Purchasing Guide
There are multiple steps to onboarding NetSuite, with different costs associated with each one. Here's how to get started.

Step 1: Determine Where You'll Be Purchasing NetSuite From
There are a few different purchasing options for NetSuite. You can either go through a licensed solution provider or purchase directly from NetSuite.
Purchasing NetSuite Through a Licensed Provider
One option is going through a
licensed NetSuite Solution Provider
. If your business has a lot of complex business processes or you want to be able to customize your NetSuite implementation process and internal dashboards, it's best to choose a service provider that offers
consulting services
,
development resources
, and
extensive training and support.
Schedule a
FREE NetSuite consultation
with our NetSuite-certified team to learn how to get started today.
Purchasing Directly from NetSuite
You also have the option of purchasing directly through NetSuite. This is best for smaller companies that don't have complex business processes and don't use a lot of different software. NetSuite does offer its own out-of-the-box integration options, but they only support certain software. Make sure you understand all of your NetSuite integration options, including all the software your company uses and each business process you need to integrate to NetSuite before deciding to purchase directly through NetSuite. If you need help figuring out any of the information above, we offer NetSuite consulting to help you figure out the best move for your business.
NetSuite Edition Types:
NetSuite Limited Edition Pricing
NetSuite Mid-Market Edition Pricing
NetSuite Enterprise Edition Pricing
Step 2: Build the Perfect NetSuite Package for Your Business
There are virtually endless ways to configure NetSuite for your business. You can choose out-of-the-box integration methods, hand-pick individual
NetSuite add-ons
, or go for a 100% customized program. Depending on what your business needs, we can support you through every step. If you aren't sure how to determine the exact needs of your company, our
NetSuite consultants
can help!
Step 3: Choose Your NetSuite License
NetSuite pricing is a subscription-based model, meaning you choose the duration of the software license, whether it's for one year or five years. Typically, a longer license means lower annual costs, as you could work out a deal with your NetSuite provider.
Step 4: Determine NetSuite Implementation Costs
The first step to onboarding NetSuite is the implementation process. During this stage, your business will determine the scope of the project including all of its existing software, business processes, and desired customization. These decisions will drive the entire
NetSuite implementation process
, which comes with its own costs. Depending on the method of implementation and how much customization is needed, you'll need to budget enough for the required development work.
Step 5: Decide the Amount of Ongoing Technical Support & Training Needed
Depending on where you choose to purchase NetSuite from, ongoing training and technical support may or may not be included. Here at SCS Cloud, we provide full-training during the implementation process. If you aren't going to purchase ongoing support, make sure you have in-house development resources to install updates or add things to NetSuite as needed.
Contact Us Today for a Free Consultation
Our NetSuite certified team takes the time to fully understand your business' needs. From standard NetSuite configurations to advanced customization, our team's specialization and NetSuite certificates will ensure you're guided through to a successful launch.
Get a free consultation