Project
Salesforce Development & Implementation
In this digital age, having an outdated inventory, handwritten ledger and analog cash register at checkout certainly won't suffice. When businesses need to bring their operations into the 21st century, they need sophisticated, scalable strategies. CAST Retail provides assistance to companies like these. The consultancy provides a comprehensive suite of services to help modern businesses fulfill their full potential. CAST Retail custom-created their own unique, exceptional high-tech systems to help companies maximize their merchandising, track their performance, and grow exponentially.
CAST Retail provides a wide range of services. POP (point-of-purchase) placement entices customers to buy additional products as they check out, digital planograms help businesses design the best store configuration, promotional compliance helps companies execute the deals they advertise, and speed-to-market tactics help retailers get their innovations to clients as fast as possible. On the back end, CAST Retail also helps vendors manage their inventories, successfully enact product recalls if necessary, ship items to representatives, and more.
Corporate clients that partner with CAST Retail also utilize the consultancy's cutting-edge software for designing their store maps, following up with customers, generating individualized reports, and making observations to motivate improvements, all from a customized, easy-to-use dashboard. For additional support, the company's many "CAST members" intervene to help retailers with these tasks if and when necessary. Many of CAST Retail's clients experience a sudden surge in profits and unprecedented expansion upon updating their retail technology. As such, the company focuses on making their custom solutions adaptable to this growth. Clients can expand their eCommerce operations as their business booms.
Since it has such a widespread presence and service area, CAST Retail also has a meticulous quality-control team. Employees are kept accountable with photographic evidence, custom validation codes, client satisfaction reports, and rigorous analysis of KPI, or Key Performance Indicator statistics.
CAST Retail currently serves all 50 United States and Puerto Rico (with free tech support for all). In addition, the company frequently sends out locally based "CAST Members" from dozens of branches to check on clientele and ensure they are happy with the system. Due to its outstanding reputation and national coverage, CAST Retail currently serves well-known businesses such as Macy's, 7 Eleven, Walmart, and Target, among others.
Ironically, in managing such a large consultancy, CAST Retail found that its existing business management systems were not appropriately scalable. With hundreds of employees serving numerous clients across the United States, the consultancy's own back-end software was spread thin. As a highly technical company, CAST Retail knew they needed to turn to an experienced, qualified team to solve this problem.
The company wanted to create a large-scale, mobile-friendly solution to manage and control efficiency through its large, distributed workforce. This piece of software would need to unite employees and streamline their efforts. They called on SCS Cloud's specialists to design a system that would allow the CAST Retail team to quickly and easily communicate with each other, ensuring the timely performance of assignments. With a large staff of "CAST Members" going out on projects multiple times per day, managers needed a contemporary, custom solution to stay current with their progress and direct them accordingly.
CAST Retail tasked SCS Cloud with devising a system capable of lightning-fast processes and rapid job assignment. In addition, this software needed to combine thousands of resources to assist team members with their duties. The CAST Retail team was looking for an agile, custom solution that could be quickly launched and adapted to their highly specific business processes. Basically, they wanted a complex, efficient, versatile solution, and in record time so they could implement it immediately. SCS Cloud was delighted to provide superior service to a seasoned, discriminating client.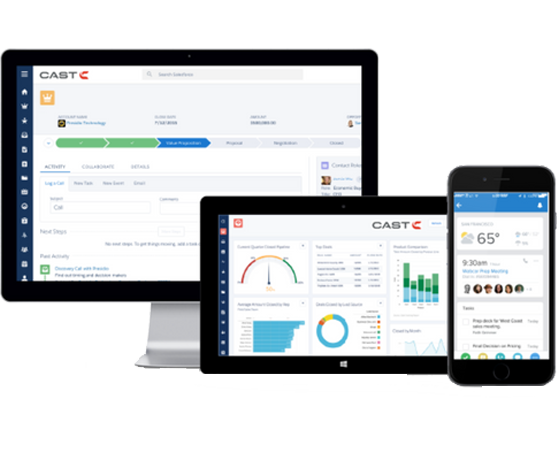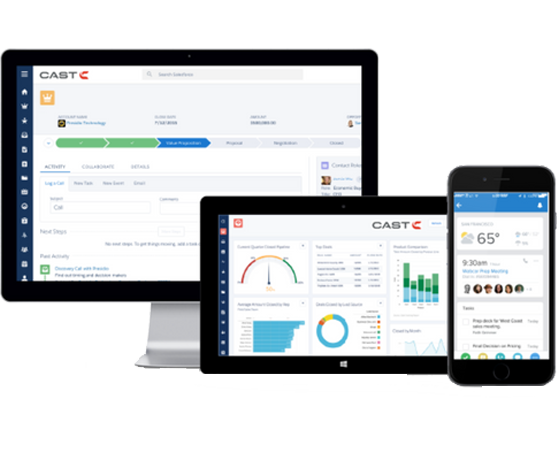 With our abundance of experience and advanced technical expertise, SCS Cloud was able to create a customized solution very quickly. CAST Retail launched their new system within a few short weeks. We utilized the renowned Salesforce platform to build a program suited to CAST Retail's exact specifications. Our nimble development methods allowed us to construct more than 200 custom features within the application and create an end-to-end solution that leverages the many advantages of Salesforce's system.
Within the dynamic industry of merchandising and retail support, requirements can change with just a moment's notice. An established support system like CAST Retail needs to live up to its client's high expectations and exceed their needs with speed.
Even with multiple changes and features released each week, CAST Retail's custom solution is able to keep up with the ever-changing needs of this distinctive business and function as a comprehensive, end-to-end solution to manage all personnel. We are thrilled to have helped CAST Retail and, in turn, aid many other retailers in their success.
Our work for CAST Retail exemplifies our attention to detail, speed of service, and dedication to quality software solutions. To find out more about how SCS Cloud could help your business or schedule a consultation, contact us today.
View More Case Studies