Project
NetSuite Implementation
Industry
Business Supplies and Equipment
There are more than two million firefighters and police personnel serving communities in the United States. In order to save lives, they need appropriate gear. Our brave public servants need boots, belts, fire shields, handcuffs, valves, and other accouterments to aid them in their important work. L.N. Curtis & sons has offered this vital gadgetry and more to first responders for nearly a century. Since 1929, this company has provided tools for America's heroes.
L.N. Curtis & sons caters to firefighters with excellent pricing on a variety of items. The retailer offers them everything they could possibly need, from advanced ear and eye protection to rope rescue equipment. Through its Curtis Blue Line, the firm does the same for police officers: helmets, holsters, firearm gear, tactical gear, and more. In addition to purveying such products, L.N. Curtis & sons does much more.
From expanding product awareness to spreading the good news about their offerings and maintaining these implements once sold, L.N. Curtis & sons handles every aspect of their equipment. These tools are swiftly advancing at all times, so firefighters and police personnel need to be kept abreast of the latest developments. In this high-stakes atmosphere, this gear also takes quite a beating, so keeping it in tip-top shape is also crucial.
Many of the products L.N. Curtis & sons sells are designed to enhance their users' safety and performance. To this end, the company also shares free educational guides on topics such as cancer prevention for firefighters or the battery life of thermal imaging devices.
The L.N. Curtis & sons team is available for customers nationwide, including governmental clients. The company also supports a variety of laudable associations and memberships, from the Congressional Fire Services Institute to the National Wildfire Suppression Association. L.N. Curtis & sons' network of executives, support professionals, and sales representatives are dedicated to improving the lives of public servants, who in turn risk their lives daily to protect others.
As a major retailer of firefighting and police wares, L.N. Curtis & sons needed to manage a myriad of large orders, as well as educating their clientele and keeping the equipment in good condition. Unfortunately, their current system simply wasn't up to this task. The company was running SX Enterprise, an older on-premise system for wholesale distribution. This outdated software couldn't keep up with L.N. Curtis & sons' fast-paced work and rapid expansion.
As expected, the company became extremely dissatisfied with their SX Enterprise system. They identified a multitude of shortcomings with it. The existing set-up struggled to generate reports, had a complete lack of dashboards to work with and was equipped with zero (KPI) key performance indicators. It also presented numerous challenges with the product database, could not easily integrate with the company website, couldn't keep the inventory straight and caused problems with shipments.
The team knew they needed to update their technology and optimize their operations, so they called in the experts: SCS Cloud to implement a better platform that could truly meet their needs.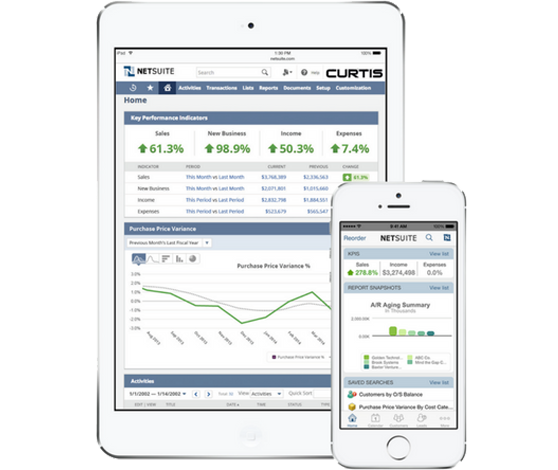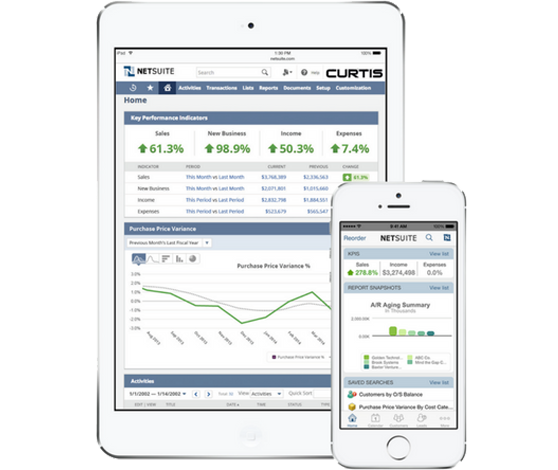 L.N. Curtis & sons started a formal, detailed ERP (Enterprise Resource Management) selection project. They compared three primary vendors: Infor, Epicor and NetSuite. As high-tech CIO (Chief Information Officer) Tim Blair White suggests, they sought out a revolutionary, revelatory, game-changing solution. He explains: "A new ERP should deliver on strategic initiatives that boost the company and profits." After all, "why put your organization through the utter agony of implementing a new ERP solution unless it really can deliver a quantum leap?"
These five key decision-making factors included reviewing configurability, scalability, cloud-based power, continuous enhancement and architecture.
Here's how SCS Cloud and NetSuite stack up:
1.Configurability. As Mr. White notes: "it is absolutely vital that a new ERP be flexible, easily configurable, and swiftly modified." This is especially important for L.N. Curtis & sons, since they deal in ever-changing products and cater to risk-taking customers. Cloud ERPs like NetSuite are known for their configuration ability.
2. Scalability. At SCS Cloud, we help our clients grow their businesses in scope and size by using platforms like NetSuite. We want our client's software solutions to expand with them and NetSuite continues to deliver this to a variety of customers which can be seen with names like Actian and Big Agnes, to name a few.
3. Cloud-based power. Given the vast amount of information L.N. Curtis & sons needed to manage, it simply made sense to store it on remote, networked servers. NetSuite is known for having an uptime of 99.96%.
4. Continuous enhancement. Particularly in our digital age, technology is constantly improving. L.N. Curtis & sons needed an ERP system that keeps pace with 21st-century advancements. NetSuite is the fastest growing top 10 financial management system, and the ONLY pure cloud software provider among the top 15 (globally).
5. Architecture. Next, a solution that had the technological design sufficient and suited to L.N. Curtis & sons' administration was needed. NetSuite's Data Center infrastructure has a litany of certifications for its top-of-the-line setup.
After careful consideration of these many components, they decided on NetSuite. This state-of-the-art, cloud-based platform is one of the best in the business. Due to its high quality, our staff is also highly experienced in designing solutions with this system, making it an even more ideal choice. NetSuite is the best fit to meet each of the key criteria. It is a system that can be easily configured and scaled to the business's needs. By using the correct platform for development, SCS Cloud made sure our solution is the last ERP system that L.N. Curtis & sons will ever need.
Would you like to find the last cloud-based solution your business will ever need? Do you know which platform your company should use? Contact SCS Cloud today to learn more about our services or schedule a consultation.
View More Case Studies