Project
NetSuite Development & Implementation
Industry
Software & Internet Companies
Founded in 2013 in Denver, Colorado, Rachio quickly became one of the most innovative home irrigation technologies on the market. This smartphone-operated sprinkler system quickly became popular with technology pundits and homeowners alike. Since its release just three years ago, Rachio has been reviewed by hundreds of satisfied customers. Top tech magazines such as WIRED, Digital Trends, Tech Co, PC Magazine, and even Forbes have raved about Rachio's ingenuity and ease of use.
Rachio comes with special hardware that simply connects a home's current Wi-Fi configuration with its existing sprinkler system. While they can water with the installed controller, most customers opt for the remote method. All they have to do is download an app on their smart phones to quickly configure the zones they want watered, at what times of day, how long, and so on. Rachio takes into account a myriad of factors—the type of soil in the yard, weather updates for that day, the kinds of plants growing, and more—to determine the exact amount of water needed, minimizing waste. The product's advanced Weather Intelligence program ensures that lawns won't get double-watered by both sprinklers and rain, automatically turning off the system based on local weather reports. Rachio users love saving time and money by reducing their water usage, especially since the program generates detailed reports on the status of the yard. This system is also convenient, since users can turn on or schedule sprinklers right from their smart phones.
Rapidly becoming a household name, Rachio has also launched a "Pro" model for irrigation and home automation specialists and distributors. These experts are just as excited about everything this product has to offer as the individual homeowners who install them in their own backyards.
Given Rachio's exponential expansion, this state-of-the-art sprinkler system company quickly outgrew its initial business and financial management software. What worked for the company as a small start-up was no longer sufficient for the home irrigation technology powerhouse it has become.
In order to cope with overburdened programs, Rachio made the mistake of adding more and more. While this may have sufficed to solve problems in the short-term, this left them with a tangled mess of corporate data. Their information was stored on numerous systems and completely out of sync.
Simply put, attempting to operate off of multiple, dispersed systems was holding Rachio back from its full potential. Crucial company data could not be easily consolidated or reported on. This made it challenging for Rachio executives to make financial projections, access key statistics for strategic planning, execute their objectives, and keep up with the company's massive growth.
Understanding the gravity of this issue, Rachio came to SCS Cloud. They asked us to create a single, integrated system through which they could access the right information immediately and across every process of their business. They needed synthesized software to handle all types of data, from financial figures to marketing projections. Fortunately, our team is quite experienced in solving these types of problems with the power of the Cloud.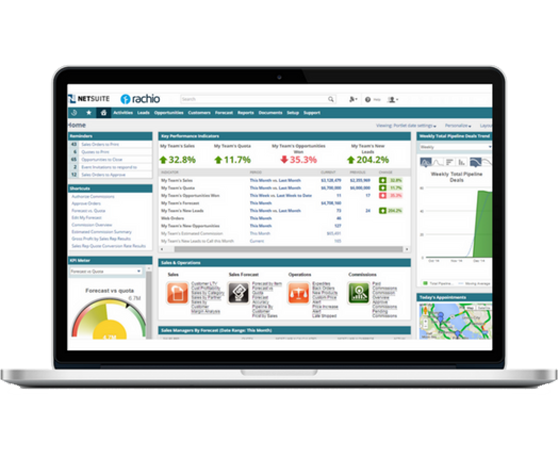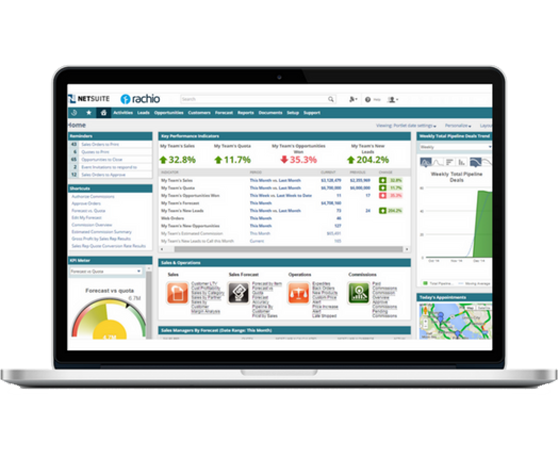 To remedy Rachio's difficulties, the SCS Cloud specialists devised a comprehensive business management system in NetSuite. This program performs ERP, or Enterprise Resource Planning. Touted as the "number one Cloud Business Software Suite in the world," this system integrates the tasks required to virtually every facet of the business. As NetSuite itself explains, it covers: "inventory and order management, accounting, human resources, customer relationship management (CRM), and beyond… [integrating] these various functions into one complete system to streamline processes." It does so by consolidating features into a single, cloud-based database. NetSuite keeps everyone in a company on the same page so they can stay abreast of the latest information and strive for the business's common goals. We knew that this would be the perfect answer to Rachio's predicaments.
Our SCS Cloud team implemented NetSuite for financials and inventory management. This allowed Rachio to take full control of its operations. Our solution also allowed for full visibility across departments with regard to the company's inventory, product demand, and financial reporting. This makes Rachio's latest developments clear to all parties involved so that they can better steer the company.
Through NetSuite's customizable financial reports and intuitive dashboards, Rachio has been able to segment out their reporting. Instead of poring over endless spreadsheets, executives can now highlight the data they need and strategize as appropriate. NetSuite generates both high level and detailed views into their financial information, depending on users' particular needs.
Unsurprisingly, Rachio has continued to grow significantly each quarter. As their enterprise has evolved, the NetSuite solution we custom coded has progressed with it. The SCS Cloud team has worked to maintain this flexible system, continually tailoring it to Rachio's exact specifications so that it can expand with the business.
SCS Cloud would be delighted to design a software system that can grow with your company. Contact us today to find out more about our services or schedule a consultation.
View More Case Studies